Last round The wookie's abliterated the uruk-hai (18-11)
This round it's Jason bourne(Jason bourne series) vs Agent 47 (Hitman)
Who is deadliest
Jason bourne
Close range: SIG pro SP2009
Mid range: AR-15
Long range: Keppeler & Fritz KS II Precision
Special weapon: 12 gauge double barrel shotgun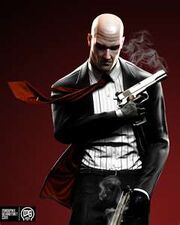 Agent 47
Close range: ATM Hardballer
Mid range: M16A2
Long range: Blaser 93 sniper rifle
Special weapon: Mossberg Persuader
JASON BOURNE HAS WON
Remember i count both poll and comment votes so get them in.

This round ends at 7:52 on Thursday the 7th of july and next round is Domovoi butler (Artimus fowl) vs Mr wink (Hellboy) See you all then.
Ad blocker interference detected!
Wikia is a free-to-use site that makes money from advertising. We have a modified experience for viewers using ad blockers

Wikia is not accessible if you've made further modifications. Remove the custom ad blocker rule(s) and the page will load as expected.