Last round the arbiter slaughtered capelli (19-3)
This round its
Arkanos: The lead admiral of atlantis who is trying to regain the favour of posidien
vs
Starkiller: Darth Vader's secret apprentice
Who is deadliest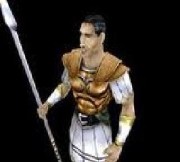 Arkanos
Close range: Trident of Posidion
Long range: Atlantean Bow
Special: Assistance from the gods
Starkiller:
Close range: Lightsaber
Long range: Lightsaber throw
Special: The Force
This round ends on Saturday the 24th of september and next round is the 3rd place battle. Whoooooo
Ad blocker interference detected!
Wikia is a free-to-use site that makes money from advertising. We have a modified experience for viewers using ad blockers

Wikia is not accessible if you've made further modifications. Remove the custom ad blocker rule(s) and the page will load as expected.