Dunn, the U.S. Ranger who helped defend America when the Russians invaded (Call of Duty: Modern Warfare 2), vs., Preston Marlowe, the reject soldier who saved America from being destroyed by the Black Weapon (Battlefield: Bad Company 2). Who is Deadliest?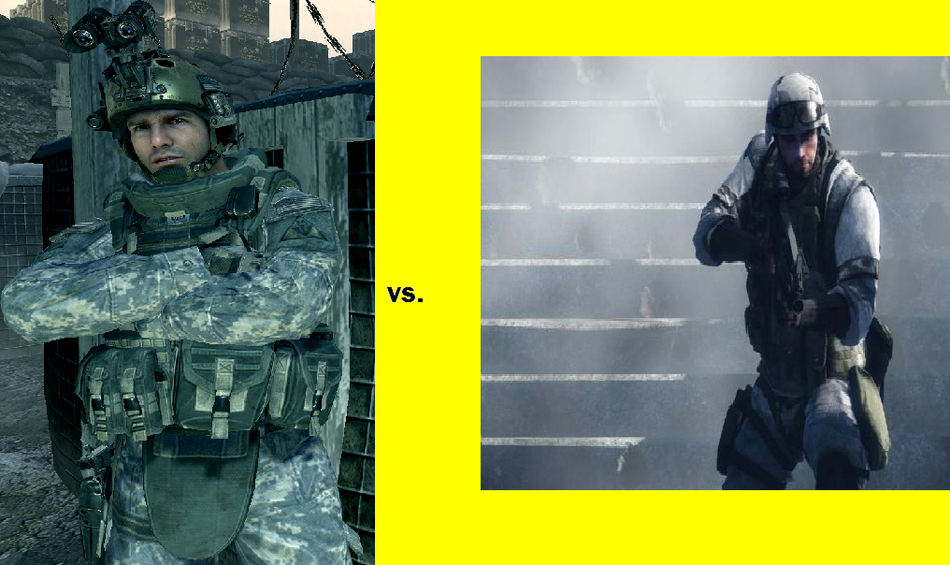 | Dunn | Weapon |
| --- | --- |
| Close Range: | Beretta M9 |
| Mid Range: | SCAR H |
| Long Range: | Cheytac Intervention |
| Special Weapons: | Desert Eagle |
| Preston Marlowe | Weapon |
| --- | --- |
| Close Range: | Colt M1911 |
| Mid Range: | XM8 Rifle |
| Long Range: | Barrett M95 |
| Special Weapons: | Beretta M93R |
Dunn's Weapons:
Marlowe's Weapons:
In the last match, Simon "Ghost" Riley vs. George Haggard Jr., Ghost was victorious.
Next match will be: Jason Bourne, the CIA agent who is constantly on the run and tries to piece together his life's puzzle (Bourne movie series), vs., James Bond, the MI6 agent who gets any lady he desires (James Bond movie series and novels).
BATTLE
Marlowe is perched on top of a tall adobe building in a Latin American country. He sees a faint brown moving spot in front of him. He pulls out his Barrett M95 sniper rifle and looks through the scope. He sees Dunn armed with a Cheytac Intervention rifle. Marlowe takes a shot at him; however, due to the wind he narrowly misses Dunn. Dunn runs for cover behind a rock and shoots his Intervention at Marlowe. The bullet hits the wall and Marlowe realizes that shooting with sniper rifles is ineffective. He goes down to street level and swaps his M95 for the XM8 and Colt M911. Dunn remains in place but swaps his Intervention for the SCAR-H. Marlowe targets his enemy and fires his rifle. The bullets miss Dunn who pops out of his cover and fires his SCAR-H. Marlowe is struck in the leg he lets out a yelp. With one hand he returns fire with his XM8 and one round finds its mark in Dunn's shoulder. He drops his SCAR-H and pulls out both his Beretta M9 and Desert Eagle and releases a torrent of 9mm and .50 caliber rounds. None of the rounds hit Marlowe who pulls out his Beretta M93R and shoots both the Beretta and Colt at the same time. Four rounds hit Dunn in the chest and and arms. Dunn falls to the floor and is bleeding out. Marlowe runs up to Dunn and points his M93R at Dunn's stomach. Marlowe says, "Eat this motherfu****", and shoots a burst of three 9mm rounds into Dunn's stomach, instantly killing him.
COMPETITION IS NOW CLOSED ANY VOTES POSTED AFTER JULY 18, 2010 WILL NOT BE COUNTED
Thanks to callofduty.wiki.com and battlefield.wiki.com for the pics and facts!
Ad blocker interference detected!
Wikia is a free-to-use site that makes money from advertising. We have a modified experience for viewers using ad blockers

Wikia is not accessible if you've made further modifications. Remove the custom ad blocker rule(s) and the page will load as expected.