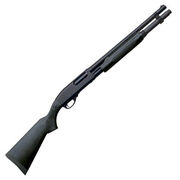 The
Remington 870
is a pump-action shotgun, 7 and a half pounds of mind blowing death. It was the Close-Range weapon of the
GSG-9
.
Description
Edit
Range: 50 yards
Ammo: 12 gauge
Mag: 8 rounds
Weight: 8lbs
Length: 37.25 to 50.5 inches
Barrel Length: 18" to 30" inches
Cartridge: 12-gauge, 20-gauge
Action: Pump
The Remington 870 is widely used by the public for sport-shooting, hunting, and self-defense. It is also commonly used by law enforcement and military organizations worldwide.
In the show
Edit
In the show, it was tested against the SWAT's Benelli M4 Super 90. The SWAT were given the edge, however, due to it's semi-auto capabilites.
Ad blocker interference detected!
Wikia is a free-to-use site that makes money from advertising. We have a modified experience for viewers using ad blockers

Wikia is not accessible if you've made further modifications. Remove the custom ad blocker rule(s) and the page will load as expected.