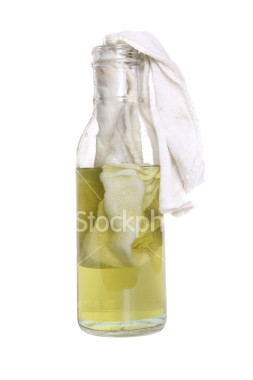 The Molotov cocktail is a simple, improvised incendiary weapon. It was the Explosive weapon of the Mafia.
Description
Edit
The Molotov is a glass jar or bottle filled with a flammable liquid, usually gasoline. A rag held in place by a stopper acts as a wick.
1 foot
2 lbs
Glass and combustibles
The rag is lit and the Molotov cocktail is thrown, where the bottle shatters on impact, igniting the gas inside. Due to its simplicity, both in construction and use, the Molotov cocktail is often used by criminals, terrorists, and rioters. It is possibly one of the most mass produced weapons in modern history because of its low cost, and has seen action in almost every modern war.
Historically, similar weapons have been used as early bombs in ancient times.
The Winter War had Finnish soldiers use Molotovs to burn enemy tanks. They were able to do this effectively by using skis to perform hit-and-run attacks in the mountainous and snowy climate of Finland. The Molotov was effective because Russian tanks at that time were so crudely made that they had several gaps, which the flammable liquid could flow into.
The name Molotov Cocktail was used as an insult to the Soviet politician Vyacheslav Molotov in the early 1940s. So the name of this weapon is actually younger than the weapon itself, similar to the Claymore sword.