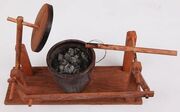 The
Mechanical Landmine
was an early explosive device of Ancient China; a underground network of bombs topped with a weapons treasure trove to attract enemies. It was the Explosive Weapon of the
Ming Warrior
.
Description
Edit
The Mechanical landmine consisted of a bowl filled with slow-burning incadescent material, which was attached to a number of bamboo tubes filled with black powder which led to powder-filled clay pots. The composition of the material allowed it to burn continuously for twenty to thirty days.
Multiple detonations
Weight: 10 lbs
Wood, porcelain, and gunpowder
How it Worked
Edit
The Mechanical Landmine was often triggered by using a weapon's cache as bait. A number of spears were planted into the ground where the enemy was sure to find them. When the weapons were pulled upwards, it disturbed the bowl, which in turn ignited the fuses and set off the weapon. The type of bait could be varied to match the intended victim. The mechanism to set off the mine could also be triggered by means of a tripwire across the path or an ambusher hiding & pulling the wire when enemies get near the trap.
The Mechanical Landmine was used in the same manner as any landmine: it was buried in the ground where the enemy would likely set it off, killing them without anyone having to engage in combat. The large amount of explosives was designed to kill multiple targets at once.
Other users of landmines have also boobytrapped them with goods and prizes. The Viet-Cong armed food, weapons and their own bases so American soldiers set them off while investigating.
Ad blocker interference detected!
Wikia is a free-to-use site that makes money from advertising. We have a modified experience for viewers using ad blockers

Wikia is not accessible if you've made further modifications. Remove the custom ad blocker rule(s) and the page will load as expected.