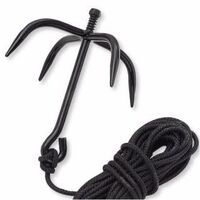 The Grappling Hook is a tool and an improvised weapon. It was the Close-Range weapon of the Somali Pirate.
Description
Edit
The grappling hook is shaped like an anchor with three to five prongs, which is attached to a rope.
25 foot rope
2 foot hook
5 lbs
Barbed steel
Historically, grappling hooks have been used by naval forces to catch on to an enemy ship so that it could be boarded. It could also serve as an improvised weapon, as shown in Deadliest Warrior.
Ad blocker interference detected!
Wikia is a free-to-use site that makes money from advertising. We have a modified experience for viewers using ad blockers

Wikia is not accessible if you've made further modifications. Remove the custom ad blocker rule(s) and the page will load as expected.