419 articles since the creation of this wiki.
Goodbye Deadliest Warrior, it was a good three seasons!
Their is a petition to bring back Deadliest Warrior.
Currently over 610 people have already singed it and with more signatures we have a chance of seeing another season.
| | |
| --- | --- |
| Please tell us what you think of the wiki! Your opinion matters; help us make our wiki better! | |

To write a new article, just enter the article title in the box below.
Not sure where to start?
Adding content
Talk and more...
Check out the community portal to see what the community is working on, to give feedback or just to say hi.
Or head on over to the forums and coordinate with the community on editing, projects, and more.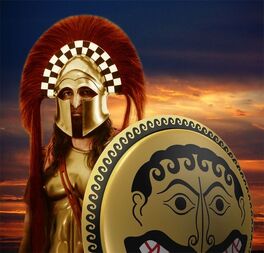 The Spartan: Deadly warrior from ancient Greece
Versus.... the Ninja, sneaky assasin from feudal Japan. WHO IS DEADLIEST?
History
The Spartans were the Greek warriors coming from ancient Sparta. They were known as the greatest warriors of ancient Greece.
The Spartan became the greatest warriors of ancient Greece by their hard and brutal training, the Agoge, which is the hardest training ever to have been in use.
A boy was taken for the Agoge at the age of 7. At the age of 18 they were to be the teachers off those who entered the Agoge. They entered the Spartan army at the age of 20 and were forced to live in his barracks. When he became 30 he was allowed to live at his home. At the age of 60 he retired, becoming a potential reserve force.
Weapons


Refresh page to see new article...

Deadliest Warrior the Game and Season 2 Trailers

Create blog post
Blog posts
I hope this is fine with you guys to put this here. I found a very good combat simulator online that simulates battles. It's very flexible, allowing for new warriors to be added at will. So, I decide…

Read more >
See more >
Ad blocker interference detected!
Wikia is a free-to-use site that makes money from advertising. We have a modified experience for viewers using ad blockers

Wikia is not accessible if you've made further modifications. Remove the custom ad blocker rule(s) and the page will load as expected.